Advocating for your Health - Take your Health Back Into Your Own Hands
Filed under "Health"
View Attached PDF »
More articles »
---
Monday, August 24, 2020
Most of you have probably seen multiple providers and specialists over the years. You've had test after test, yet no one can seem to pinpoint what is causing your symptoms. You're frustrated. You're in pain. You don't know what to do or where to turn? Watch video HERE or read post below and see attached pdf.
This is what I hear from patients in my clinic every single day. Over the years, I've learned that teaching patients how to advocate for themselves is just as important as teaching them about functional medicine. This lesson is dedicated to helping you when you are at other providers offices.
We are going to talk about:
-advocating for yourself and your health, including questions you should always ask your doctor

-why it's important to tell your provider the truth 100% of the time-how to determine when it is time to leave your provider
- a preventative lab schedule that will empower you to make the best decisions for your personal health.
This section is dedicated to helping you take your health into your hands, regardless of where you seek care. You are in charge of your body, your health, and your future. This lesson will give you the skills and confidence you need to back control.
ADVOCATING FOR YOUR HEALTH LESSON 1 - Communicating with your Doctor
There are countless reasons why a patient may not be happy with the care they are receiving. One of the main things I hear from patients who come to my clinic is that they feel like no one is listening, let alone hearing what they are saying. There are many reasons a patient may feel like this. An average visit with a provider is typically around 5 minutes. A portion of that valuable time is always filled with paperwork, computers, and clinical questions. This leads to poor communication.
A recent study found only about 21% of patients feel communication with their provider went well, while 75% of doctors believed they communicated satisfactorily with their patients. There is a big disconnect in the doctor-patient relationship. Learning how to take your time, ask the necessary questions, and advocate for yourself is key to improving communication and ultimately your health care.
Here are a few ways you can proactively increase communication with your provider.-Prepare for your appointment in advance. Before your doctor's appointment, have an idea of how YOU want your time with your doctor togo. Think about all of the things you want to cover during your appointment. Think about any tests, lab results, medications or supplements, that you may need to bring with you. Make sure that you talk about what YOU want to talk about.
-Write notes Bring notes and questions with you to the appointment. Here are a few things you should include in your notes:
-Goals for your appointment-Symptoms you want to address
-Concerns you have
-Questions you need answered
-Research or studies you may have questions about
-Tell your story: Tell your doctor your story. Don't simply say, "my joints hurt". Explain to your provider when your pain started, what happened when you first felt the pain, how it feels, how often you experience pain, etc. Tell them the story of your health issue or condition, this is much more beneficial than simply answering yes or no questions about your symptoms.
When you are sharing your story, try not to diagnose yourself first. Instead of saying, "I think I have arthritis.", you can say,"My wris tand finger hurt.". Let your provider give you a fair unbiased opinion.
-Don't be afraid to speak upThis is the time to be straight forward. If you feel like you aren't being heard, tell your provider. Try saying something like:-I need to talk with you about (fill in the blank). Can we talk about this? -I don't think we are on the same page. Can we talk about...-I know you are busy, but I need to talk about (fill in the blank). When can we talk about (fill in the blank)?-Can you help me understand....-Can you explain....-At the end of your visit, repeat what your doctor instructed you to do. You can do this by saying something like.....Just to be clear, you want me to….
Below is a list of questions you can take with you to your next appointment. I recommend printing and keeping it with you in your purse, your car, or somewhere you won't forget. Bring this with you every time you visit your provider to make sure you aren't forgetting to ask something that could have a big impact onyour health.These steps can help you make some real changes in how you communicate with your provider and how they communicate with you. Being your own advocate is about picking the right healthteam, and then working hard to communicate well with them.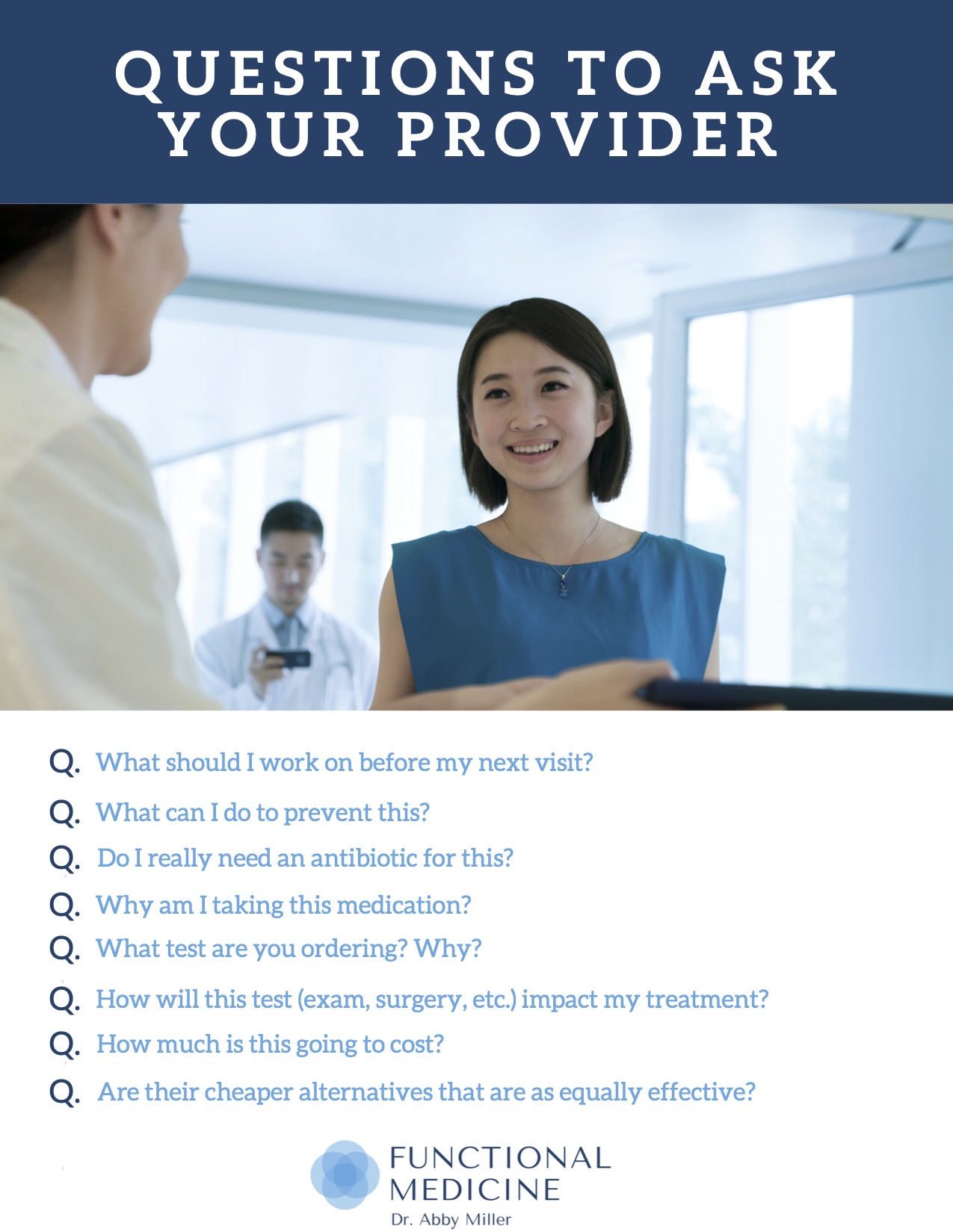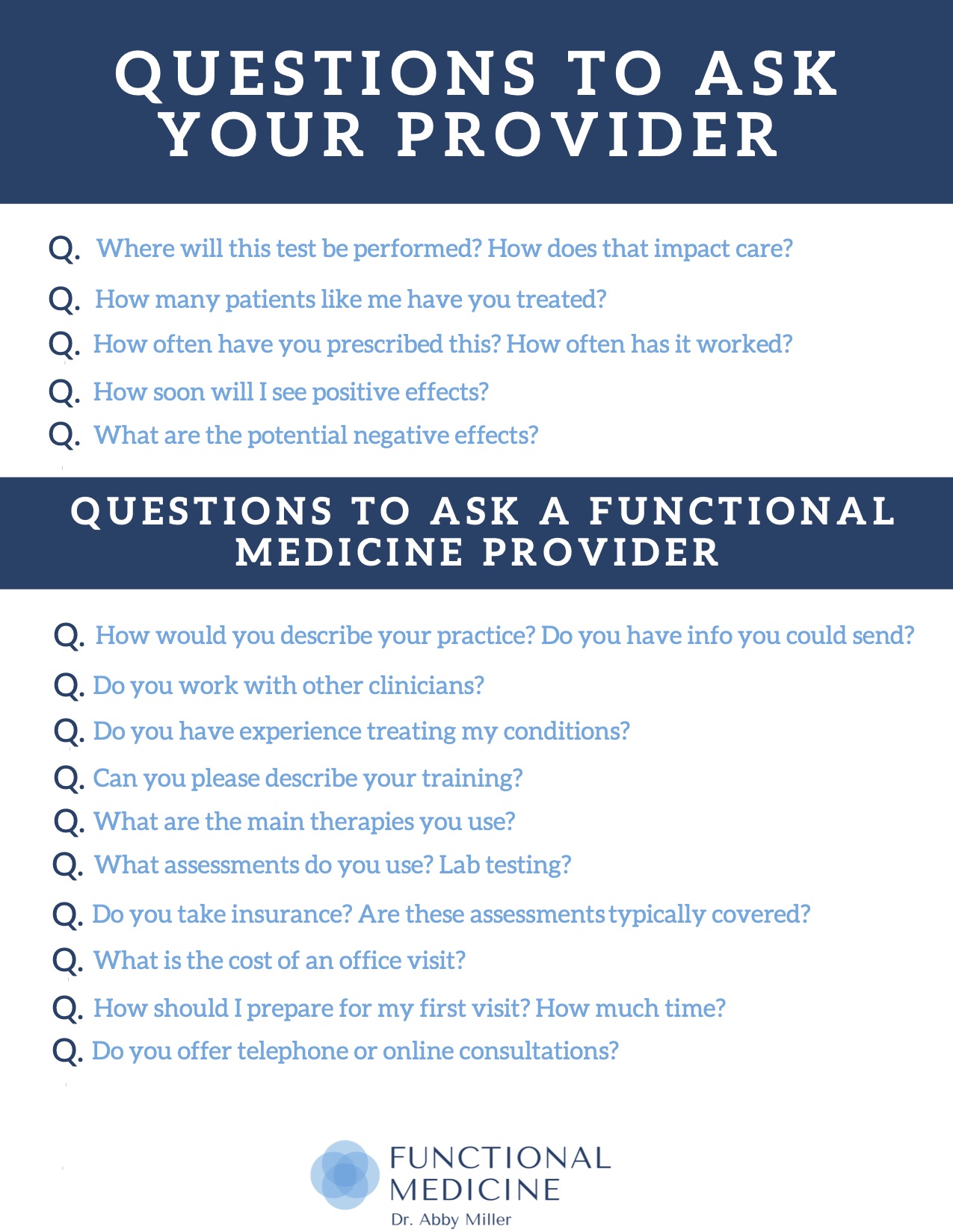 ADVOCATING FOR YOUR HEALTH LESSON 2 - Don't Fall into the Lie Trap!
Have you ever lied to a provider? Maybe even a little white lie? Odds are you probably have. A recent study published in the journal JAMA Network Open found 60-80% of patients have been less than fully truthful with their provider are some point. That could be a little white lie or only telling your provider part of the truth. I understand. I may be a provider but I'm also a patient. Most of the time, patients lie if the topic is sensitive to them or makes them feel uncomfortable. But not being 100% truthful with your provider 100% of the time can lead to dangerous outcomes and health care that is less than ideal. There have been a number of studies on this topic, but nearly all have similar conclusions. We are human, we get embarrassed and we fear being judged by our provider. We want to present ourselves in a positive light. Some of the most common things a patient lies about are following doctors orders, diet and exercise, and their sex life.
Other common white lie centers on medication use or taking medication from someone else. Younger patients aged 25-34 are more likely to lie about recreational drug use, smoking, and sexual history. It was also found that men and women are more likely to tell the truth to a female provider. Regardless of the reason, or the white-lie, not being truthful can negatively impact your health. The bottom line is, providers want to help patients. They want to provide the best care possible. They want to help you but they can't serve you well if they don't know everything about your health history.
Many times patients don't realize that being dishonest could lead a provider to prescribe the wrong medication or the incorrect dosage of a medication. It can lead a provider to make the wrong diagnosis or delay the patient from getting an accurate timely diagnosis. The troubling thing is, patients don't think their little white lies matter, and they really do. If you want the best results from your healthcare team, you need to tell the truth. As a provider, I can confidently tell you that quality providers do not judge you, your health history, or your medical choices. We are here to help you.
ADVOCATING FOR YOUR HEALTH LESSON 3 - How to Say Goodbye
If you aren't getting the care and support you need from your doctor, parting ways could be the healthiest choice for you. It's vital to have a strong care team to help you along your journey to recover your health. While switching providers isn't the easiest choice, it may be necessary for you to get the care you need. Here are a few things to consider when thinking about breaking up with your provider.
-You don't "click"
Odds are you won't see eye to eye on everything with your provider, but it is important that you work well together. Some people like providers who are forward, direct, and blunt while others prefer providers with a warm bedside manner. When you are mismatched and your communication styles are different, it could be time to look for a new provider who will better fit your needs.
-Bad timing
Do you frequently have to wait a long time to see your provider? Do you feel like they are rushing through your appointment? You should never feel rushed. If your doctor isn't taking time to answer your questions, all your questions, that is not okay. It's time to find someone who will take the time to listen and answer your questions.
-Lack of understanding
Whether your doctor uses too much medical jargon that you don't understand or you don't understand why a certain test or treatment is needed...they aren't doing their job. Your health is too important to feel uninformed. It's your responsibility to ask the necessary follow up questions to make sure you completely understand, but your provider should be open and thorough so you understand the course of action.
-Poor listening
Communication is vital to a good patient provider relationship. You need to feel like your provider is listening and hearing you. If you feel like you are asking questions and they're not being answered, then you may want to look elsewhere. It's important for your provider to hear your health history. Go to the doctor who quits typing on the keyboard and looks you in the eye and listens.
-You don't feel comfortable
Sometimes providers need to know more about you than you share with anyone. It's important hat you feel comfortable sharing. A simple feeling of unease is enough to start the search for anew doctor.
-They don't work well with others
Your primary care doctor should be the coordinator of your health care team. They should help you manager each step of the medical process. They should keep track of reports, records, instructions from other providers, and recommendations for your health. If they aren't on top of this, part of your care could slip through the cracks.
-Availability
It's important for you to be able to follow up with your doctor on any questions or concerns you might have. Are they available during off hours if need be? Do you know what to do in an emergency situation? Make sure your provider can be available when and where you might need them.
-Lack of learning Regardless if your doctor went to school a few years ago or a few decades ago, it's important for him or her to stay up to date on the latest medical tools and research. Medicine has changed a lot of the years, and it's important that you are getting the best, most accurate information. Your providers CV should have this info or you can ask the office staff for more information. If that information is not available, that could be a red flag.
-Bad Reviews Always look up reviews for your providers. These should be relatively easy to find online, on their website, and even social media. This will give you valuable information from other patients who have experience with your provider. If there are multiple negative reviews, you may want to consider seeing someone else. If even one of these factors seems off with your provider, it's okay to start looking for someone else to be on your care team. Just because you aren't a good match, doesn't mean he or she isn't a good person. You deserve the best and only you know what you are comfortable with and what is best for you.
ADVOCATING FOR YOUR HEALTH LESSON 4 - Quality of Life Labs vs Save Your Life Labs
The day a baby is born, or shortly there after, their parents are given a schedule for office visits and vaccines. As a parent, it's your responsibility to make sure your child attends all their visits and gets the proper vaccinations to stay safe and healthy. Once that schedule is complete...then what?
We don't do much in terms of prevention. We simply wait for an acute or chronic illness to present and then we take action. This is the opposite of what we should be doing. Prevention is key to avoiding chronic illness and disease. The more empowered we are about our personal health needs, the healthier we will be. That is why I recommend following:
a preventative lab schedule to improve your quality of life, as opposed to a lab schedule that is based around disease or illness. A preventative schedule will help you take proactive steps in your health care and your families health care for years to come. You can get these labs through your local provider, or if you are near our clinic we can help you get the necessary labs.
The lab schedule I recommend for preventative health includes labs every ?6 months.? I recommend a principal lab panel. You want to make sure you are adding a reverse T3 if that is not already included. You also need to add an ANA and PSA. This typically costs around $250.
Every 9-12 months? you will want to do another set of preventative screenings. I suggest afunctional urine, functional stool, functional saliva, functional hormone, and cellular nutrients. This screening will show you things like how your body responds to specific stressors, what your mood and outlook on life is, and what your body needs more of to protect itself from developing disease. These tests runs about $1,500. There are few places you can get them done. There are links to those in the notes section as well.
Every 24 months? I recommend an Ivy Gene screening. This is a cancer preventative screening. It's a simple blood test that your primary care provider can help with. They test for early signs of breast, liver, colon and lung cancer. Get an Ivy Gene Screening here

I also recommend getting a 23 And Me at some point throughout your life. The genetic information you can learn from a health report is invaluable. You can learn things about your health that you never knew before that could lead you to the path of healing. The following screenings are good screenings to make sure to ask your primary care doctor about:
-Thermography
cancer preventative screening
There are a number of places to get your labs every 9-12 months. I recommend one of the following links below:
Resources used in this Genetic lesson include:
https://mthfrsupport.com/2013/05/other-gene-mutations-that-must-be- addressed-before-starting-an-mthfr-protocol/
http://mthfrliving.com/health-tips/supplementing-for-mthfr-b12/ http://mthfr.net/mthfr-research/2012/01/27/ https://www.mommypotamus.com/mthfr-mutation/
https://www.mayoclinic.org/healthy-lifestyle/consumer-health/expert-answers/ infrared-sauna/faq-20057954
---
---
Leave Your Comments
We welcome your comments. Please leave your ideas and opinions below.